Vita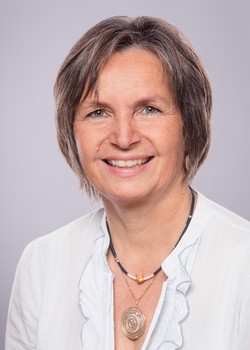 Claudia Schembri-Heitmann, Ph.D. (Doctorate in Integrative Medicine, IQUIM, Hawaii), HP
"BodyTalk is a stand-alone healing system which can be integrated in all modalities and all areas of life. My personal background is in the field of sports and movement therapy, with specialisation in the wholistic field. I have been studying the BodyTalk System right from its beginning in 1995. And I just had to keep going, I was so fascinated by the results and the simplicity of its application. The BodyTalk System can be learned by anyone. That is very important. There is a difference between a healer (mostly from birth) and a 1 healing system. What can be learned by everyone is a 1 healing system."
- Claudia Schembri-Heitmann, Ph.D. (IMD), HP 
"You have had the most profound influence on the development and growth of BodyTalk ever since the very first class was taught. Thank you!"
- Dr. John Veltheim, Founder of The BodyTalk System
Claudia Schembri-Heitmann, Ph.D. / Doctorate in Integrative Medicine (IMD - IQUIM, Hawaii), Heilpraktikerin (HP, German Naturopath), Advanced Senior Certified BodyTalk Instructor (AdvSrCBI) and Certified BodyTalk Practitioner (AdvCBP), was one of the first instructors who were graduated by Dr. John Veltheim to teach The BodyTalk System, MindScape and FreeFall 1&2. From 2003-2012 she was appointed as and served as IBA President for Europe and from 2012-2015 as IBA President.
At present, Claudia is teaching the following courses: BodyTalk Access, BodyTalk Fundamentals (Module 1&2), BodyTalk Fundamentals Integration, Principles of Consciousness (Module 3), BioDynamics (Module 4(7)), Macrocosmic BodyMind (Module 6), MatrixDynamics (Module 9), BodyTalk Advanced Integration (BAI), MindScape and FreeFall 1&2 plus PaRama Unit 1 Practical and BodyTalk Session Intensive. She is also qualified to train new Certified BodyTalk Instructors (CBI and AdvCBI), BodyTalk Access Trainers (BAT) and MindScape Instructors (MSI).
In 1989, she graduated as a Sports Specialist (Consultant/Teacher/Therapist/Health) after studying the Science of Sports for four years at the German University of Sports Sciences in Cologne / Germany. During her studies, her main subjects concentrated on Sports Medicine, Theories of Training, Health, Miscellaneous Types of Sports, Sports Psychology, Pedagogic and more. As an additional subject she chose Medicine. Additionally, she qualified as a Naturopath in Germany in 2001. In April 2019, Claudia graduated from the International Quantum University of Integrative Medicine (IQUIM) with a Ph.D. / Doctorate degree in Integrative Medicine (IMD). 
Claudia extended her post-graduation studies by taking additional courses for further specialisation in the rehabilitation and treatment of orthopedic injuries, spine / back therapy and heart conditions, apart from the regular health and sports training. Since graduating, Claudia has worked in several positions as Head of Sports & Movement / Therapy within her specialised line of work in Germany and Malta.
Claudia came to Malta in early 1993 and has since then specialised in Complementary and Integrative Therapies and Energy Medicine, consciousness-based HealthCare and Quantum Medicine.
Claudia is also a Traditional Reiki Master Teacher and a member of The Reiki Network. Reiki is a safe, simple and natural hands-on technique utilising universal life energy to promote health, harmony and balance on all levels.  
Claudia Schembri-Heitmann is a member of several professional organisations, including the International BodyTalk Association (IBA), the German Federation of Health Sports and Sports Therapy (DVGS), The Reiki Network (RN), Natural Healing Association Kempten (NHV Kempten) and the German Association of Energy Medicine and Information Medicine (DGEIM).
In 2004 Claudia moved to Southern Germany together with her son and husband and set up her base in the Allgäu Area. Her main focus is to spread and increase the awareness about the BodyTalk System, MindScape, FreeFall and Wholistic Healthcare.
Her current training includes Self-Identity through Ho´oponopono (Basic Level I) with Dr. Hew Len (http://www.self-i-dentity-through-hooponopono.com/), Medi-Taping, studies of Chinese Medicine, R.E.S.E.T.® 1&2 -TMJ Balance (P. Rafferty, www.reset-tmj.com) and BioGeometry (Levels 1, 2, 3, 4, 5, 6). BioGeometry™ is the patented science of using the energy principles of shape to provide Qualitative Environmental Energy Exchange Balance (QEEEB) to living beings. BioGeometry is a long-term environmental support system to the body´s energy structure in order to harmonise the body´s environmental energy interactions and was developed by Egyptian architect and scientist Dr. Ibrahim Karim (www.biogeometry.ca). ****** In Summer 2012 she attended the course "Linking Awareness - Intercellular Communication" (www.linkingawareness.com). ******* In Summer 2013 she attended the 3-Day Parent Training Conference at the Family Hope Center (www.familyhopecenter.org). ******* In Spring 2014 Claudia attended a CFT training (CranioSacral Fascial Therapy ) with Dr. Barry Gillespie (www.gillespieapproach.com) and also received information on the BabyBrainScore. The power of CFT revolves around the integration of hands-on procedures that facilitate healing ("The body knows it best.") on a non-invasive wholistic level. "The brain has to breathe, fascia has to be free." – a freely moving brain and fascia system are of utmost importance for all newborns, children and adults.******* In 2015, Claudia attended the course "San Baio: The Three Treasures" with Janet Galipo, D.O.M., and Nancy Werner, M.D. (www.sanbaio.com). San Baio is a Taoist/Chinese medicine Concept referring to the three substances (treasures) upon which all life depends: Jing (the root of Life, our Essence, represented through our DNA), Qi (the total vitality, generated on a daily basis) & Shen (the Spirit or Soul, encompassing all aspects of mind). By ensuring optimal balance of the Three Treasures, instead of directly attacking illness, one can help to optimize, support and heal all aspects and levels of the individual bodymind. ******* SourcePoint Therapy® (www.sourcepointtherapy.com) – a manual, energetic healing modality in which imbalances which can be observed in the human energy field, the blueprint, and which can have an influence on the health of the bodymind complex, can be observed and balanced, thus enabling the bodymind complex to go back into resonance and reconnect with its innate state of order, harmony, balance and flow.
 "I have been working successfully for a number of years now with wholistic methods, but none has fascinated me as much as the BodyTalk System. BodyTalk started in 1995. Therapists from different specialised fields and interested laypersons are learning and integrating this method with lots of enthusiasm into their everyday (personal and professional) life. I trained directly with Dr. John Veltheim, the developer of the BodyTalk System, and have been teaching BodyTalk since 1996."
- Claudia Schembri-Heitmann, Ph.D. (IMD), HP